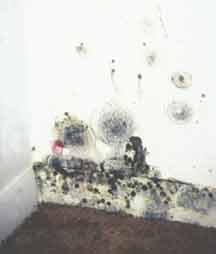 BASEMENT MOLD DUE TO WATER PENETRATION
When you have water penetration in the attic from leaks, basement foundation water penetration, water damage due to leaking pipes you must have the property inspected for allergenic, toxic or other types of molds that are know to cause human disease. As indoor environmentalists, aerobiologists and medical mycologists there is no one that understands the related potential problems better than we do.
In nearly every case where there is water there is mold and often the mold is hidden. See some of the areas where mold is commonly found after water damage or penetration in the attic or basement.
Before any waterproofing or having any water damage related work done make sure you identify the full scope of the problem. Most likely you have a mold condition that warrants inspection.
Damp basements make people and pets sick. Allergies and respiratory responses are common.
Our inspection are complete from top to bottom of your home.
GET IT ALL AND GET IF RIGHT THE FIRST TIME